California Independent Film Festival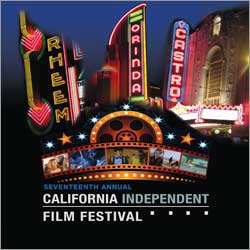 The California Film Festival (CAIFF) is excited to present another year exhibiting a diverse array of films from around the world. The festival has also honored actors and filmmakers including Richard Dreyfuss, Martin Landau, Cloris Leachman, Tony Curtis, Rita Moreno, Diane Ladd, Penny Marshall, Ed Asner, Tippi Hedren, Barry Morrow, and others. The festival takes place at the New Rheem Theatre in Moraga, The Orinda Theatre, and The Castro Theatre in San Francisco. For more information about the festival visit www.caiff.org.
CASTRO THEATRE PROGRAMMING
For the first time in its history, the CAIFF presents special screenings at the historic Castro Theatre in San Francisco. A screening of TOO WONG FOO, THANKS FOR EVERYTHING! JULIE NEWMAR will feature an appearance from Hollywood icon Julie Newmar, who will be awarded with a Lifetime Achievement Award.
The festival will also include a screening of the John Hughes favorite SIXTEEN CANDLES as well as the Bay Area premiere of the queer comedies JOHN APPLE JACK and 10 YEAR PLAN. All will feature special appearances from the cast members.